O que está a acontecer com o mundo da moda?
Nos últimos dias veio a público que três marcas vão encerrar. A nível internacional, a marca Gianfranco Ferré, anunciou o seu término, após 36 anos de existência. A saída, em Dezembro passado, dos seus directores criativos deixava transparecer alguma instabilidade na marca, o que agora se confirma com o fecho da casa italiana.
A última colecção apresentada pela marca [para a Primavera deste ano], em Setembro de 2013 na Milan Fashion Week, estava deslumbrante. Looks em cores sólidas, corte com base geométrica, elegância acima de tudo. Será, com certeza, uma inspiração para os looks de street style dos próximos meses.
É uma pena ver uma marca com esta grandeza terminar mas, pelo menos, fê-lo com a elegância esperada.
Por Portugal, a dupla 'Os Burgueses' e a marca do estilista Ricardo Dourado também vão fechar portas e já não vão participar na próxima edição da ModaLisboa [no inicio do próximo mês].
A crise tem certamente responsabilidade nestes encerramentos, mas será que é esta a principal razão? O que é certo é que as grandes cadeias de lojas como a Zara, a Topshop, a Mango têm um grande poder económico e pouco pudor em criar modelos com clara inspiração em criações de estilistas.
Para nós, que vivemos também esta crise e que não conseguimos facilmente ter o acesso que gostaríamos às colecções dos estilistas, é óptimo que as marcas mais comerciais e acessíveis tenham enveredado por este tipo de política criativa mas, para os designers de moda, isto pode ser um dreamkiller, não é possível que pequenas [e grandes] empresas de moda resistam ao 'ataque' dos grandes impérios de Prêt-à-Porter.
Espero que não haja mais más noticias nos próximos tempos pois o mundo da moda precisa que estes talentos estejam vivos, pois são eles que lançam os motes para as novas estações e são eles que, em primeiro lugar, materializam as inspirações e que, tantas vezes, nos inspiram a nós.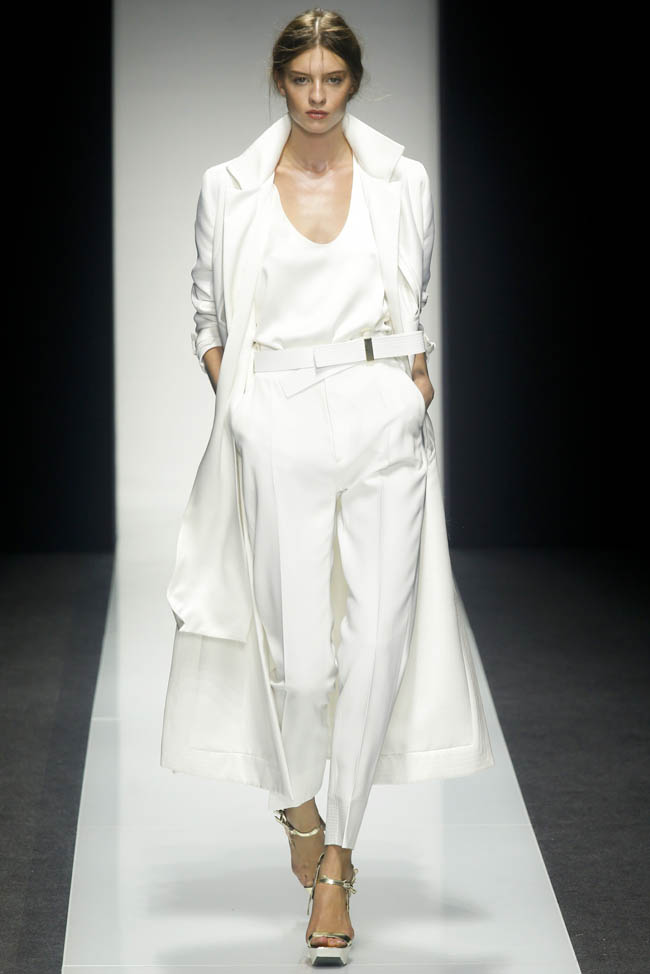 Gianfranco Ferré. Spring'14 collection.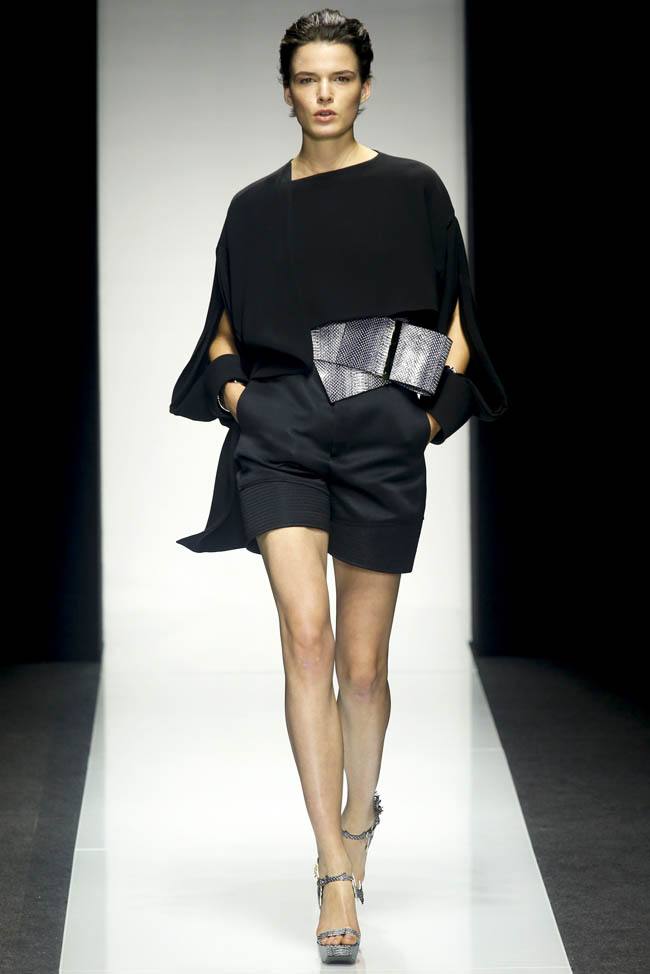 Gianfranco Ferré. Spring'14 collection.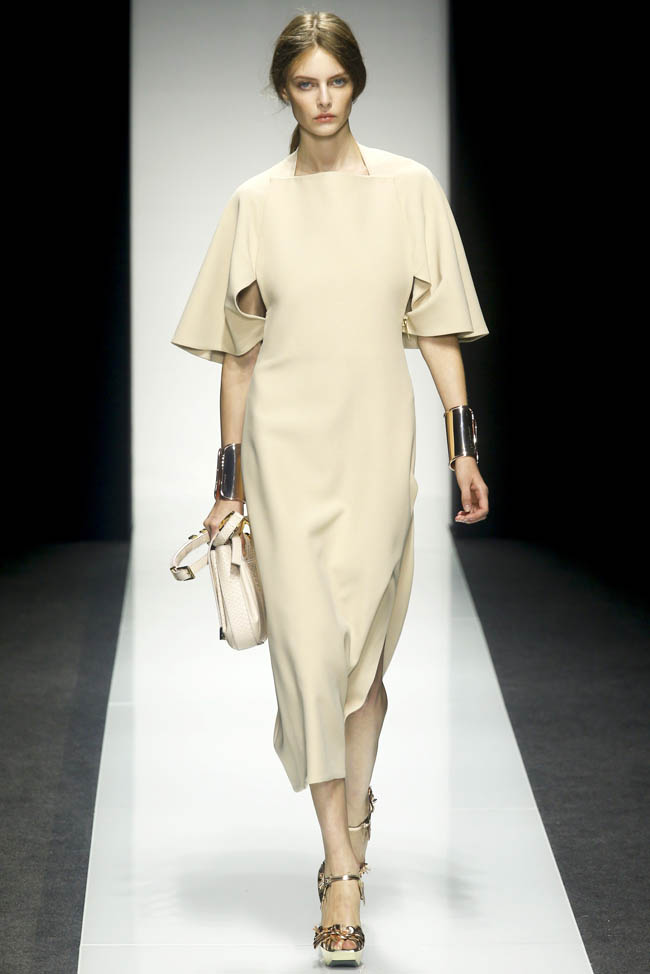 Gianfranco Ferré. Spring'14 collection.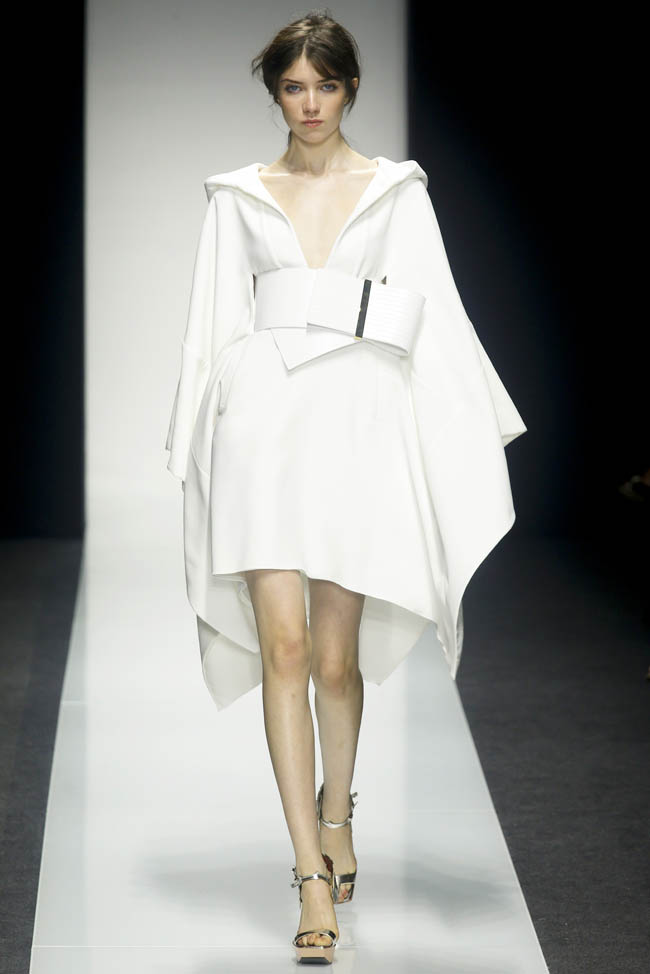 Gianfranco Ferré. Spring'14 collection.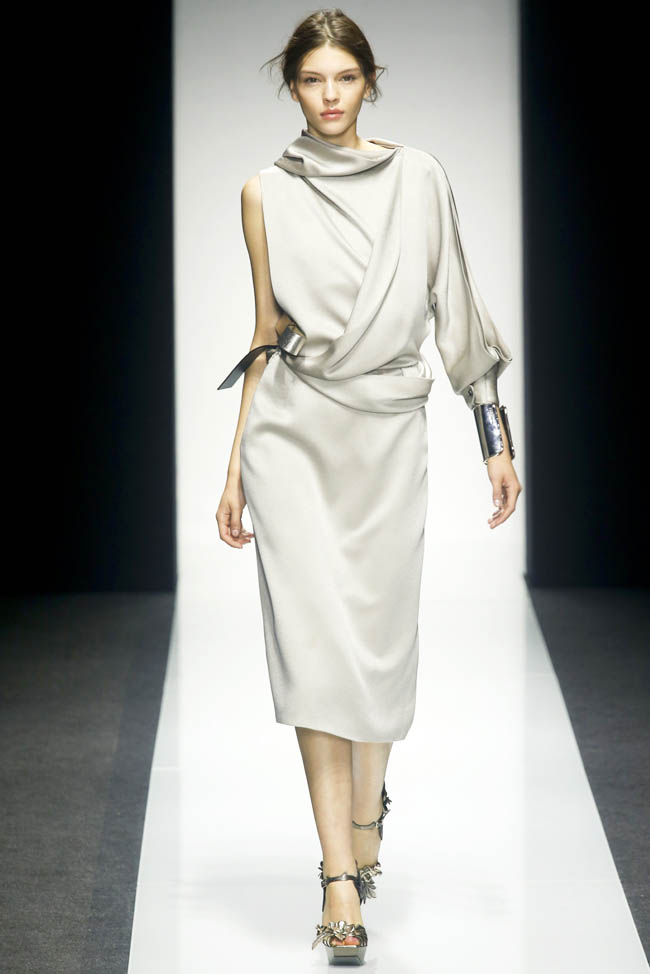 Gianfranco Ferré. Spring'14 collection.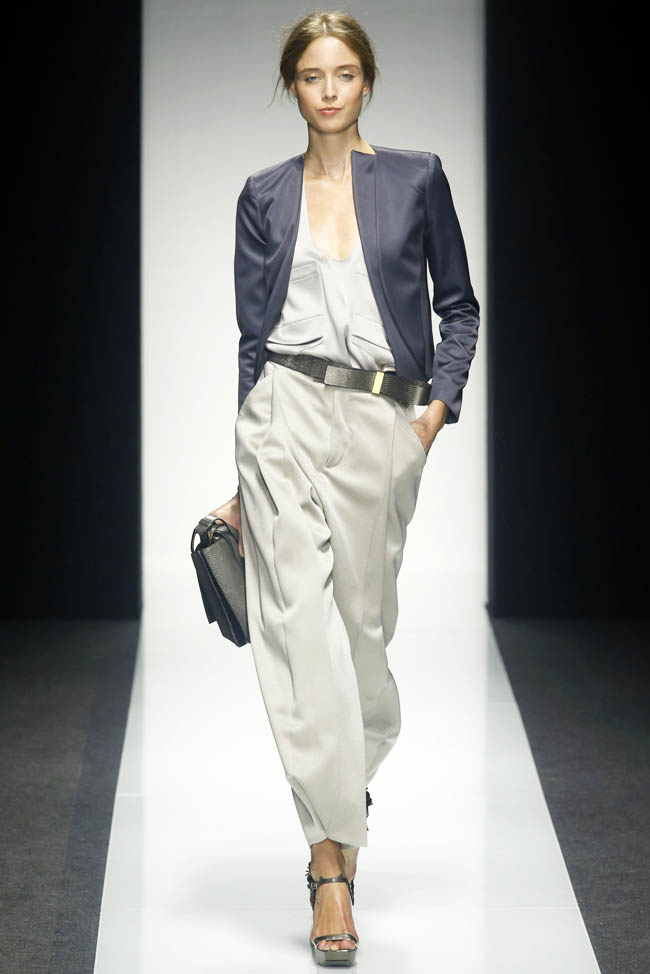 Gianfranco Ferré. Spring'14 collection.
images from fashiongonerogue.com
What's happening in the fashion world?
In recent days has emerged that three brands will terminate. Internationally, the brand Gianfranco Ferré, announced its end after 36 years of existence. The departure, last December, of its creative directors reveals some instability in the brand, which is now confirmed with the closure of the Italian house.
The latest collection presented by the brand [for spring of this year], in September of 2013 in Milan Fashion Week was stunning. Looks with solid colors, cut with geometric background, elegance above all. It will certainly be an inspiration for the street style looks in the coming months.
It's a shame to see a brand like this, finish but at least did it with the expected elegance.
In Portugal, the double 'Os Burgueses' and the designer Ricardo Dourado brand will also close doors and will no longer participate in the next edition of ModaLisboa [early next month].
The crisis certainly has responsibility for these closures, but is this the main reason? What is certain is that the big chain stores like Zara, Topshop, Mango has a great economic power and little modesty in creating models with clear inspiration in the creations of fashion designers.
For us, who also live this economical crisis and can't easily have access to the collections of designers, it's great that more commercial and accessible brands have embarked on this type of creative policy but, for fashion designers, this can be a dreamkiller, it's impossible that small [and even big] fashion companies resist the 'attack' of the great empires of Prêt-à-Porter.
I hope there is no more bad news in the coming days because the fashion world need that these fashion talents stay alive, it's they who cast the theme for the new seasons and, firstly, materialize the inspirations and as often inspire us.